Taxonomy tagging simplified
Assigning taxonomies is an easy three step process which can be applied to multiple observations at once, using common or scientific names.
The full taxonomy is automatically assigned including family, order, genus, species, and common name.
Select images to tag.

Search for the desired taxonomy within the search bar using quick partial word searches for common or scientific name.
Select taxonomy to assign to images.
Four letter bird codes can also be used. Once set, taxonomies and other attributes can be copied and pasted to other observations as well.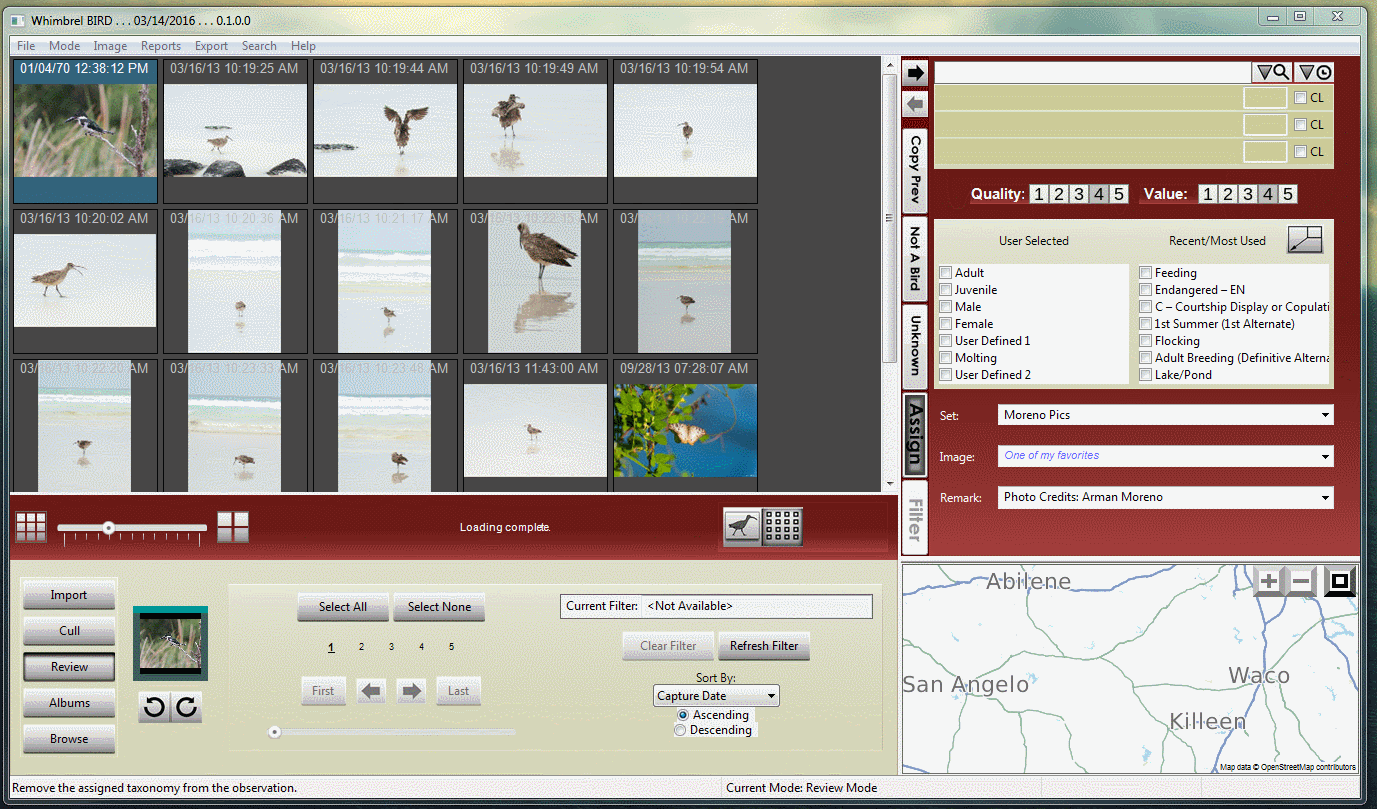 Specifically review observations that have not yet been tagged.
Review Mode guides you through untagged images to painlessly assign taxonomies and attributes.
Assign Taxonomies
Single-click attributes can be sorted and prioritized to meet your needs
Mark images with Unknown for unknown or uncertain ID's for later retrieval
User defined attributes to match your interests
Quality and value ratings for your best and your most important pictures
Searchable image description and remark text fields
Use user-defined categories or tag images as Not A Bird
Cull Mode allows for quick image comparison to remove unwanted images
You've just imported a large set of images and you want to cull down the set to a manageable level by removing all the undesired or redundant pictures. Whimbrel BIRD makes that process easy with Cull Mode. Within Cull Mode, you can:
View all images that have not yet been processed or tagged
Zoom to pixel-to-pixel view and pan the images within the thumbnails to compare image quality
Cull images that you want to delete and remove the ones you have considered to make comparing the remainder easier
Trim down large sets of data quickly
All culled images are sent to the trashcan, where they can later be removed or restored.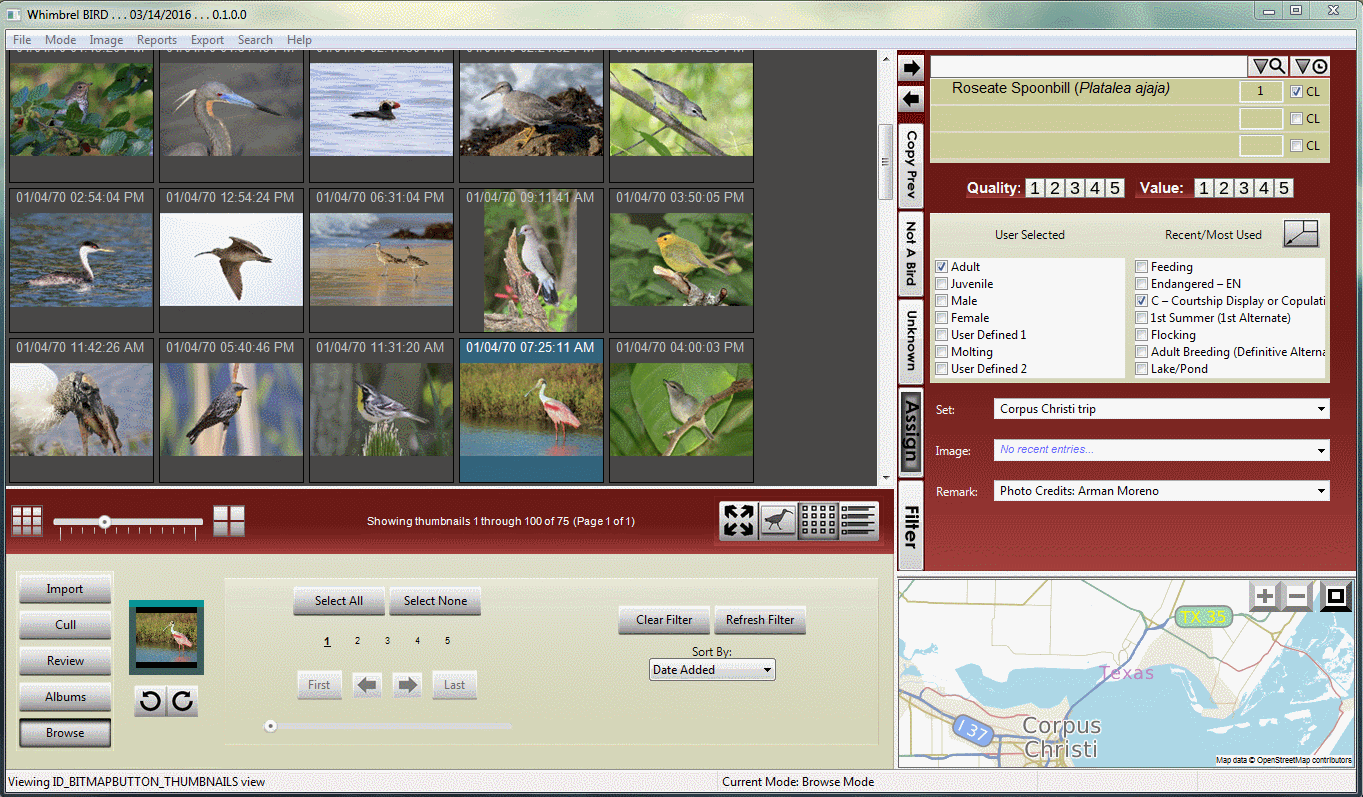 GeoLocation and geocoding made easy
Geolocation is an essential element in keeping track of your observations as a birder. Because of this, we made geolocation tagging a core feature of Whimbrel BIRD. Using OpenStreetMap© data, Whimbrel BIRD provides a map in which you can zoom, pan, and search to geotag your images.
Once located on the map the database automatically stores all relevant geocoded data associated with the location including Country, State, County, and City, along with Landmarks and other points of interest, including Parks and Refuges. You can later search and find your images by any or all of these elements.
This map also provides functionality such as:
Search for a specific location
Pan and Zoom
Image locations can be displayed on the map.
Automatically set picture location upon import by selecting a map point, by searching for specified locations, or automatically using EXIF data from GPS enabled cameras.
Albums designed with organization in mind
Creating albums is as easy as click, drag, and drop.
Key features to albums:
Export all images in albums as a set
Sort images in albums in any order
Seamless and in-app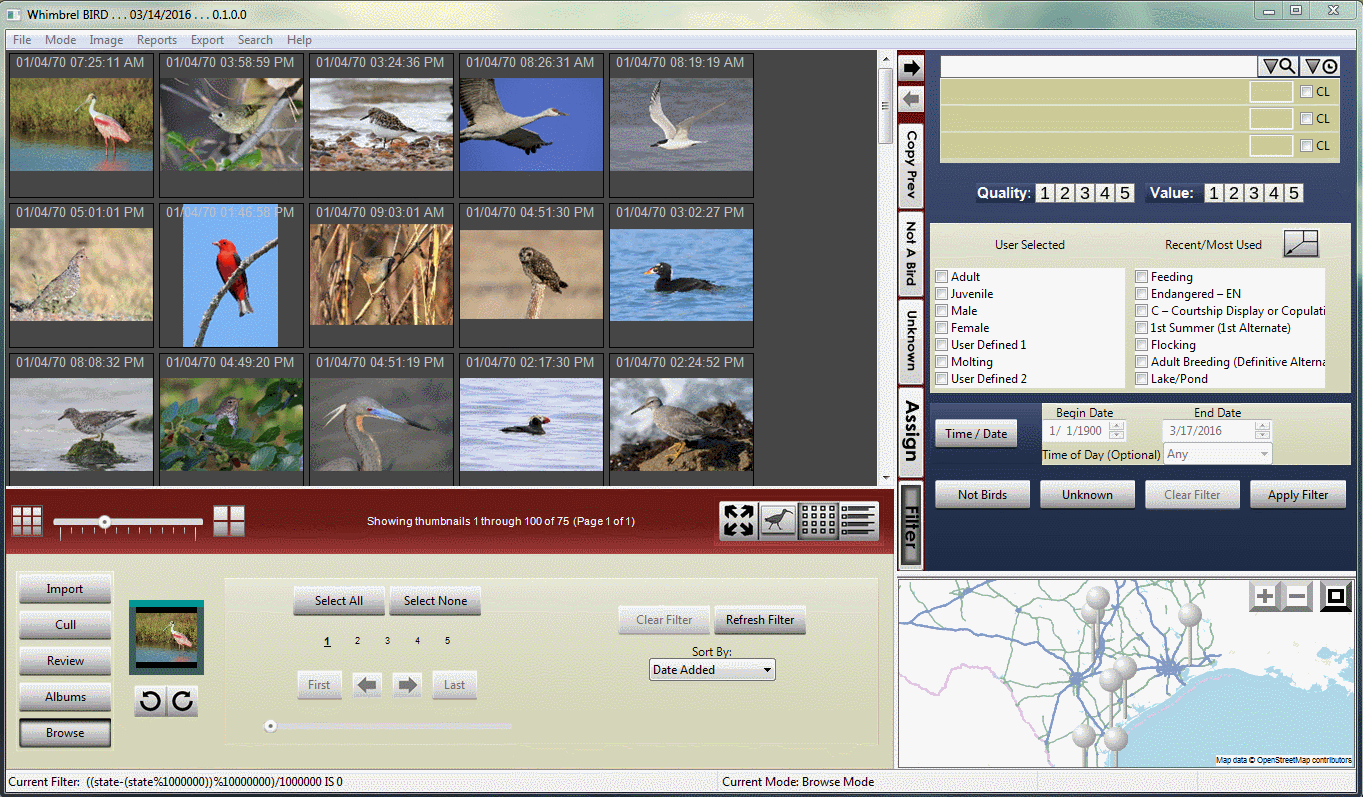 A powerful filter system that allows for easy search and retrieval of photos
With Whimbrel you can filter and search for images:
Using any attributes including user-defined attributes
By Taxonomy, at any level - Find all of a given Family, Order, Genus,or Species
By location and by capture date and time
By Quality and Value rating
Filter for multiple sets of taxonomies and various attributes